The Tribes of the Cass Corridor, Detroit
Established February 10th, 2001
" Think where man's glory most begins and ends, And say my glory was I had such friends."
William Butler Yeats
Got info or pictures? Post on the forum.
---
Gilda Snowden passes away (1954–2014)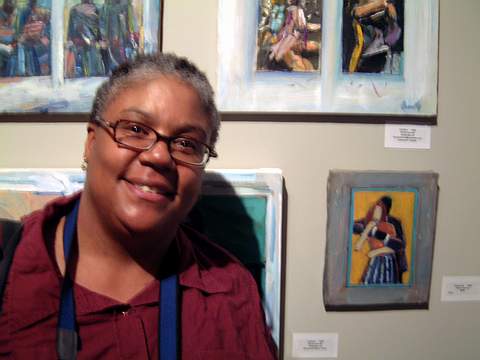 Gilda at Bradley Jones Show, 2001
9/09/2014
We have just learned from several reliable sources that Corridor artist Gilda Snowden has passed away.
She leaves behind a shocked and bereaved husband, family and community. Gilda was a foremost artist, not only of the Cass Corridor, but Detroit in general.
The unexpected passing of this vibrant and creative light will be deeply mourned.
More site information on Gilda can be found using the search engine at the top of the page.
More info will be posted as it arrives.


Recently added:
Poems by Douglas Larkins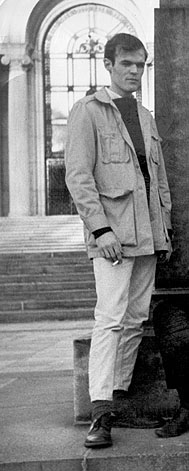 Early 1960's, Douglas Larkins In front of
The Detroit Institute of Art
---
News:
2014
2012
2011
2010
11/04/10 - Cass Corridor Culture: In and Around Wayne State, 1960s - 1980s
11/15/10 - Plum Street and its sad demise (video)
11/06/10 - 'NoBrand' Art show at Skipper's in Hamtown
10/21/10 - Corridortribe: Catalyst for reunion of father & son
08/12/10 - Poet & writer Ron Allen in passes away

07/30/10 - Terri Hern

report

s

that Bill Mclain passed away

.

07/30/10 - Update - Dayton Spence out of danger?
07/17/10 - Woody Miller, long-time mid-town publisher passes away
03/29/10 - Mick Vranich passes away

03/10/10 -

Heather Tupy

, Third Street Saloon bartender

passes away

02/22/10 -

Be

n

e

fit auction at the Center Galleries

for Mick Vranich

02/20/10 - Mick Vranich Benefit, Old Miami
02/12/10 - Mick Vranich - construction accident updates
02/11/10 - Mick Vranich in construction accident, extensive injuries reported
01/27/10 - "Motorcity Revue" opens Jan. 27 - March 5th. Includes a plethora of Cass Corridor artists...
01/19/10 - Stella Paris, "Greektown Stella" passes away at the age of 94. Also, Free press article
01/17/10 - Pictures of Skipper's shakedown cruise
01/14/10 - "Skipper's Hamtown" opens...
01/11/10 - Barbara Greene Health update also, Barbara's hospital phone number, compliments Becky Romaine: 1416 5306000 punch: 1 Bed: 2077
01/06/10 - Barbara Greene in hospital - Letter from Mike Twamley
01/01/10 - Lenny Schafer sends us this wonderful photograph, "Cass Corridor Artists Circa 1974"
2009
2008
11/24/08 - Sean Fitzgerald passes away
11/16/08 - More Lords pictures, posters sent by Dennis Pruss
10/28/08 - Memorial gathering at the Cass Cafe for Tony Williams & David Snow, Sunday, Nov. 2nd, 2 - 6pm
10/23/08 - David Snow passed away peacefully in hospice
10/20/08 - Tony Williams passed away last 10/19/08 - no news yet as to funeral or memorial service.
10/18/08 - David Snow in hospice
08/26/08 - Mark Grubbe, former bartender at Cass Cafe passed away
08/19/08 - Jim Kennedy passes away

08/14/08 -

Dennis Pruss sent these great 1980's pictures of bartenders who worked at Alvin's Twilight Bar, as well as assorted patrons
08/04/08 - 2008 update: Manfred Kohl's Finka Bosque YouTube presentation
08/03/08 - Skip Rasburry's "Stray Dog Saloon" image crush, check out a major culture scene of the 1980's
05/11/08 - Matt Blake, Cass Corridor artist passed away, May 9th from a massive heart attack. Click for memorial details.
If you have any info, please place it here.
04/27/08 - Bands of the Cass Corridor - Ghost Band
04/27/08 - Bands of the Cass Corridor - David & Roselyn
04/26/08 - Bands of the Cass Corridor - Okefenokee; pictures sent by Dennis Pruss
04/26/08 - Bands of the Cass Corridor - The Lords; pictures sent by Dennis Pruss
04/14/08 - Band pictures from Paul Hostetter
04/11/08 - Pat Halley pies the Guru Maharaji - Newspaper clipping
01/30/08 - Pictures of Shadowfax by Dennis Pruss
01/02/08 - Mike Neiswonger passes away

01/02/08 -

David Watson's Eulogy

for Pat Halley

01/01/08 -

Mike Neiswonger writes about Pat Halley
2007
2006
2005
10/15/05 - Cass Corridor, now in Wikipedia

09/10/05 - Dally in the Alley! - Pictures

06/20/05 - Party Time! July 23rd - 2nd Annual Tribes of Detroit Reunion Party - Details

05/16/05 - Wayne State hosts a celebration of Detroit film and media art

05/15/05 - Tony Philpot, Cass Corridor photographer and friend is no longer with us. Memorial for Tony Philpot will be Wed., 6pm at the Central Alliance Church, 616 W. Hancock at 2nd Ave. (behind Old Main Gallery). All are welcome.

02/07/05 - International Restaurant pictures & related

01/10/05 - International Restaurant intro by John Slick

01/01/05 - Happy New Year!
2004
2003
2002
2001
Site maintained by Stephen Goodfellow