* Anything in RED is a query and subject to rewrite. If you have any information, please post it on the discussion board. It WILL be reviewed.
Detroit Artist's Workshop 1960 -?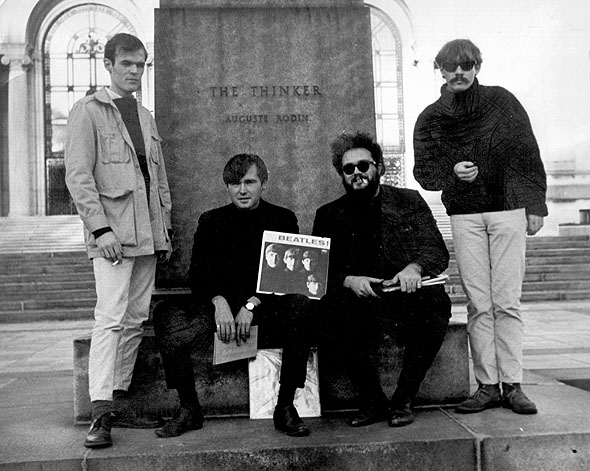 Artist workshop founders Doug Larkins, George Tysh, John Sinclair and Robin Eichele
Photograph contributed by Douglas larkins
In the early 60's Corridor artists, musicians and writers organized into a collective dedicated to co-operative advancement of the arts in Detroit.
Founding members included Douglas Larkins, Robin Eichele, Nancy Madison, Alister MacKenzie, Billy Reid, the MC 5, Stephen Ligosky, George Tysh, Richard "Toby" Tobias, Ken "Jumbo" Schooner, Jim Siemark, Charles Moore, Ellen Phelan, John Sinclair and others. (Does anyone have a list?) The Artist's Workshop was successful in providing public venues for member concerts, poetry readings, gallery shows, publishing and other cultural events. During the middle 60's, the Workshop morphed into Trans Love Energies, then the White Panthers after Sinclair's move to Ann Arbor.
---
ARTISTS WORKSHOP WEST: THE FAMILY DOG
A substantial group of Workshop founders and regulars migrated to San Francisco during the 60s and, as a group, founded the Family Dog for purposes of creating concert venues for member bands and musicians. Among them were James Gurley (founder of Big Brother & the Holding Company), Jim Moilanen, Nancy Madison, David Homicz (David's dog "Sancho" was the original family dog), Robert Dries, Stanley Mouse, Alan Stone, Martin Gorak and Rita Phelan. The Dog Tribe rented the Avalon, Fillmore and other ballrooms, effectively sparking the "Psychedelic" music and art movement in San Francisco.
---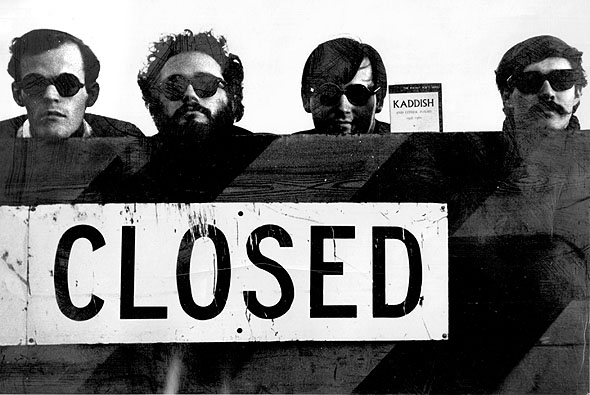 Artist workshop founders Doug Larkins John Sinclair George Tysh Robin Eichele
Picture contributed by Douglas Larkins


Here is a list of known Artist Workshop members:
George Tysh
Bob Marsh
Doug Larkins
Robin Eichle
Nancy Madison
Jon Roberts
Ellen Harmon
Alister MacKenzie
Billy Reid
Stephen Ligosky
Ken "Jumbo" Schooner
Jim Semark
Charles Moore
Ellen Phelan
Martine Alguire
Lyman Woodard
Leni Sinclair
Dan Spencer
Kenny Cox
Jim Moilanen
Tim Phelan
Bud Spangler
Larry Weiner
Pauline MacKenzie
Doreen Collins
John Collins
Tim Downs
Sue Perry
Linda Banks
Marvin Banks
Bill Jackson
Chuck Logan
Charles Latimer
Larry Miller
Richard Ellman
Carol Miller
Jennifer Miller
Steve Rossmore
Bob Hollis
Kenny Mitchnik
Nancy Mitchnik
Tim Ligosky
Nancy Lee
Tom Thompson
Dale Chalk
Mark Chover
Barbara Chover
Steve Soloman
Kay Alexander
Tony Williams
Tony Dixon
Robin Summers
Chuck Kohl
Kenneth Cockerel
Walter Brown
Warren Edwardus
Judy Brown
Frank Isola
Judy Slaughter
Bob Fisher
Mike Kruger
Alan Saperstein
Robert Dries
Bonnie Roberts
James Guenther
Bruce Bishop
Martin Gorak
Ellen Harmon
John Stroud
Richard Ash
Nikki Toles
Rita Bergman
Larry Brooks
Mary Kay Tomaino
Nelson Pole
Bill Niccore
Jeanie Niccore
Janice McBride
Alex Lampe
Ken Davies
Byron Zuk
Carl Butz
Jerry Younger
John Hornfield
Dave Cowels
Bob Mates
Sally Feed
Felica Davis
Ted Lukjanczk
Tim Phelan
John Roberts
Seymore Finer
Richard Gerrian
Ray Hibbit
Tyrone Abrams
Ed Metry
Bo Taylor
Bill Tyler
Bil Stuart
Peter Cantini
Nancy Jones
Sue Brackett
Gayle Pearl
Tina Spaulding
Dale Cook
Larry Hartstein
David Small
Ron English
Ted Lucas
Annette Lucas
Sidney Brown
Mary Carol Brown
Lloyd Yates
Steve Warner
Allen Stone
Paula Stone
Bill Kahler
Hallie Stanbury
Bill Currie
Lou Lorringer
Mike Knight
Paul Sedan
David St John
Ron Nordin
Diane Kowek
Joan Ellen "Dusty" Rhodes
Paul Taylor
Don Stays
Roberta Hall
Loring Stanhope
Jim Hand
Mary Bridges
David Earl
Jerry Cohen
Jim Laing
Dan Sparks
Jeff Kercerou
Don Jobes
Clairese Jobes
Robin Eichele
Allister McKenzie
Bill Reid
Joe Mulkey
Richard "Toby" Tobias asks, where are they now? You can either place info on the discussion - everyone will get to see it - or contact members via email as you wish.
If I get the info, I'll create a page for individuals - such as I have done for Gary Grimshaw and David Snow - to keep folks up to date as to their activities.