Laura Grimshaw remembers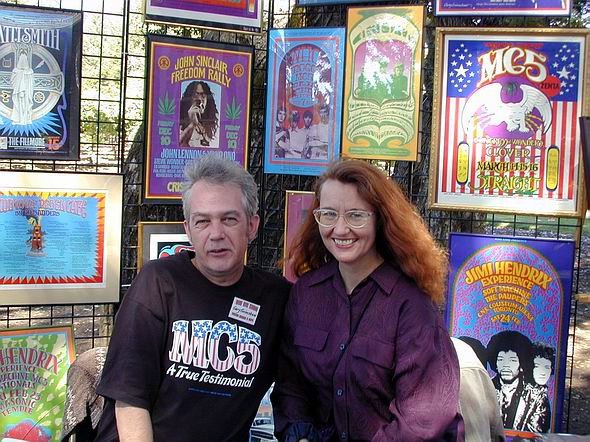 Gary Grimshaw, Laura Grimshaw, ,July 15, 2001 at the Ledson Winery
poster show in Santa Rosa, California.
Photo by Gregg Montgomery
When I was in high school our neighbors in Troy located behind our house were the Ropers. Mike Roper's folks and my folks, Mary Ann and John Eccles, are still friends but Mike's moved away years ago. My folks are still there.
Most people know me as Laura Sharp but I don't identify too much with that name as I was Eccles and/or Grimshaw for much longer.
I loved reading Mike's take on The New Miami.
Mike and I knew each other before either of us knew the Cass. He was a friend of my first husband, James Sharp from Rochester.
When I got out of high school early one of the conditions of being able to leave was to be enrolled in college so I enrolled at Wayne State. Mike helped me a bit by showing me around some, most notably bringing me into Alvin's deli.
Flash not too far forward and Mike opened up The New Miami with George and I think one other guy. I'd have to go back to see if he mentions the name. I don't think that person hung out too much.
I was breaking from my husband and rented a room from Carol in a huge old Victorian right around the corner from The New Miami. Mike and Carol were dating then. For some reason I think Ralph Rinaldi lived there too, but later. Carol was quite creative and a little eccentric. That's exactly what I loved loved loved about the Cass - finally I found a bunch of people who didn't fit into the norm. I felt like I fit in with them, not the people from the place I came from.
Later I hung out with Suzy Wahl and Laura McGuire a lot. The three of us worked at Porter Street Station near Tiger Stadium - is it even still standing? At that time I lived in the Valson (sp?) apartment building on Fourth Street.
I've jumped around a lot but if I have to pick one tribe only I'd say it was The New Miami that was my introduction to the Cass Corridor but I hung with Bobby and Laura (even sang !?!? one time with the two of them) at the Song Shop (the name of which was an inspiration for the name of my new store in Oakland called PaperSong). I did a calligraphic menu for the Song Shop.
Henry Normile and I were briefly dating and broke off just weeks before he was shot so I was a familar face at Cobbs too. Better memories of Cobbs are of The Lyman Woodard group playing music and other jazz. Plus, jazz at Suzy Wahl's restaurant around the corner from Alvin's (where I worked for her as a waitress and during which time I was dating Joe G.) Lots of jazz memories with Joe and Frank Isola. How the hell are you, Frank - remember me?
But the Michigan Gallery holds a special place in my memory. My dad was the accountant for them (I got him the gig) for many years, I sold some art there (two bronze sculptures and a watercolor as I recall) plus the biggest and brightest memory is of meeting my current husband Gary at a showing of his posters. (He had just split with his wife but she made sure to spin the story so that I came out the bad guy-not true. We were both very respectful of her.) He lived across the street at a studio building (Izzy's Sells for Less). When he moved out about a year later I made sure the space went to my dear friend Anthony Williams.
Well that was a trip down memory lane.....