* Anything in RED is a query and subject to rewrite. If you have any information, please post it on the discussion board. It WILL be reviewed.
Willis Tribe, Early Period - 1968-82?
( See also, Willis Tribe, Late Period & Avalon Bakery)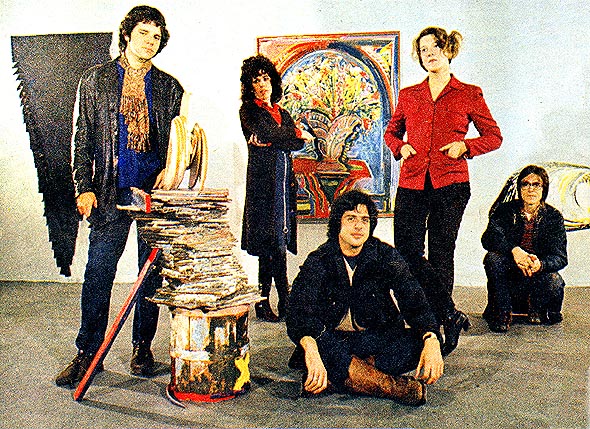 Willis Gallery - Bradley Jones, Ellen Phelan, Ron Winokur, Nancy Mitchnick and Douglas James
February, 1972
I chose the name Willis Tribe, based on the Fine Art individuals who exhibited, interacted, or associated with the early manifestation of the Willis Gallery on Willis when it was a co-op, of which Dan Moriarity was the director.
I denote the end of this era when Jackie Feigenson - then director of the co-op - dissolves the Willis Co-op, and it is transformed into a private gallery with Jackie as owner. By this time, many of the original individuals have moved out of town or can be considered as being associated with later tribes.
This is an incredibly exciting time and place. Two of my art instructors from Hull Regional College of Art, England (1971-74) recommended I attempt to get into Wayne State University Fine Art Department for further education, because they were aware of the energy going down in the Corridor at that time, and as I was to learn, what they told me was indeed true. It was very exciting, watching the energy of Willis Tribe, but even at this time (1975) the demise was already evident. Many of the members were beginning to migrate to other more 'culturally aware' cities, such as New York.
Nonetheless, the force of impact it had on evolving Cass tribes cannot be underestimated.
---
David Snow says, "I remember the gallery being run by Dan Moriarity who died in NY sometime in the 70's,but There was a selection committee in the early 70's that included for a while at least Jerry Hunt, Dayton Spence, Maybe Bradlee but rotated I think. My first show there was in the fisher bldg with Jackie as the hired director. In the show were Mike Schneider, Keith Aoki, Glenn Booth and David Phillips. When Jackie partnered up with Judy Rosenstein it seems like the Willis moved back down to the original spot and there were a couple of political shows. I was in one there about US intervention in Nicaragua called Artists Call in 1984. I'm in Portland Me. at Davidinportland@msn.com"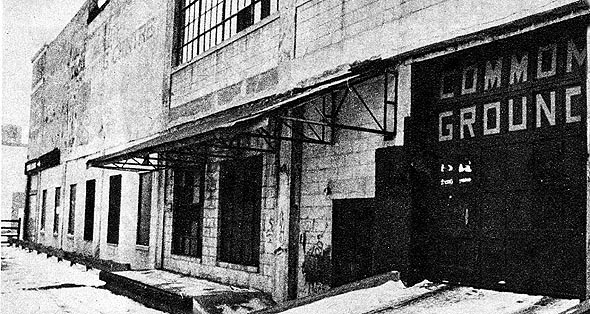 Many of the Artists worked in Common Ground, corner of Cass and Willis, which used to be a Purple Gang garage in the '30's
Photo by Gary Cooperman
---
Gilda Snowden offers a list of Artists who were exhibiting while she was Art Director if the Willis. (1983-84)


Links:
Willis Gallery Posters on Matthew Hanna's website