Unitarian Tribe 1975 - present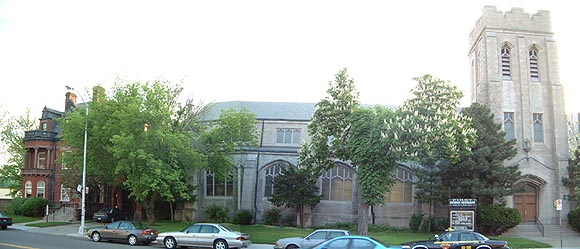 The Unitarian Church on Cass has hired folks to supervise the church for as long as I have been in the Corridor. What gives this group cohesiveness is possibly due to the churches policy of offering living space to it's supers. I'm sure this in itself is a factor for the evolution of this tribe, but without doubt it is mainly due to the extraordinary individuals who have taken up the broom in this establishment. One coherent sub-tribe that springs to mind, is the "Don't Look Now Jug Band," the core of it's members being associated with this tribe.
David Lee says:
Olivier Lavergne lived at the church for about three- four years got his PhD in Chem and moved back to France - played in the jug band
Susan Kramer says:
I interviewed & brought Marianne (Knoll) Angilini in who then met James Knoll. I encourage Marianne to move in because I was the only woman living at the co-op at the time. Wanted to balance out the testosterone.
Not only did I live, work & grow up at the UU but Lowell and I married in the church there too.
George Kirby says:
This tribe was founded by Tim Lipinski.
The original members were:
Tim & Carol Lipinski

Fred Coonce

Mike Strobbe

James Knoll
The second group added:
3rd wave:
When Rich, Linda and I moved to Ferndale, we were replaced by the "classic" lineup with:
Mary Ann Angilini (James & Jasmine)

return of James Knoll

Wayne Morsczyzna

Sally Shemanski

Maryanne

Larry Gabriel

Terry Youk

Olivier Lavergne

Ron Kopak

Donny Kirkland

Richard 'Ricardo' Richards
...in addition to perennial members Tim Lipinski, Jill Lipinski, Carol Lipinski, Mike Manetz, Dave Grodecki, Eric and Sally Moir
Honorary Tribe members: Erica and Katherine Mercer --- though neither lived there, they were the only actual parishioners who were allowed into our "inner sanctum" while I was there.