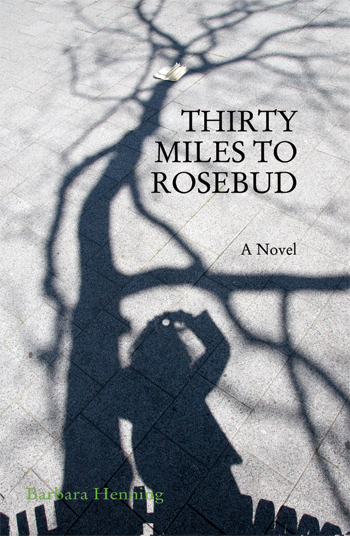 Barbara Henning

Thirty Miles To Rosebud depicts a series of imploding families and fast interstates. Barbara Henning's landscapes-- a rust-belt childhood, a nearly forgotten East Village Bohemia and the arid Southwest streaked with the setting sun—are populated by runaways, lost loves and lifelong betrayals. In this remarkable novel, Henning's eye for detail and her emotional honesty enables the past to loom in the rear-view mirror long after the car has sped by.

—Donald Breckenridge

This On the Road story zig zags the America grain, a rebellious woman's experience, and the consequences of the Vietnam era. Barbara Henning's clean, stark realism rejoices and laments the left and the lost, what can and can't be found in time and mind.

—Gloria Frym

This remarkable, gracefully muscular, novel pays homage to being, writing, attending, loving. Henning's low key, precise, observances are downright addictive in their power to hold, carry and reward.

—Lynn Crawford

One of Barbara Henning's great accomplishments is the voice we came to appreciate in You, Me, and the Insects. It presents her world with a candor both companionable and profound, both disengaged and intimate. She has no agenda but to tell her own story, which is the story physical, emotional, and spiritual, of her generation. Wisdom enters her telling as easily as a deer crosses a road. And many deer do, because this is a book in line with Celine's crazed Castle To Castle, Douglas Woolf's Wall to Wall, Kerouac's romantic On The Road, Hunter Thompson's Fear and Loathing in Las Vegas. Thirty Miles to Rosebud stands with all of them as one of the great memoir road novels of our time.

—Steve Katz

______________
BARBARA HENNING is the author of two novels, You, Me and the Insects and Black Lace. Her books of poetry include My Autobiography, Detective Sentences, Love Makes Thinking Dark, Smoking in the Twilight Bar, as well as numerous chapbooks and a series of photo-poem pamphlets. A collection of prose and poetry, Cities & Memory, is forthcoming from Chax Press. A native Detroiter and a long time resident of New York City, she now lives in Tucson, Arizona.
---
Update 2008:
Dear Friends,
If you are interested in reading a midsection from the fictional memoir (or novelized autobiography), You, Me & the Insects, which I was writing while I was in India last year, ten pages or so is now published on a internet magazine at the following address: http://www.markszine.com/
A little bit of Mysore & Detroit. Let me know what you think.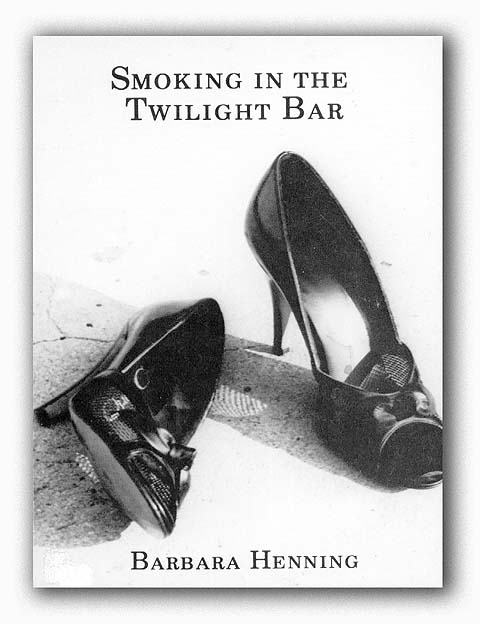 Excerpt from "Smoking in the Twilight Bar" by Barbara Henning:
Published 1988 by United Artists; written early early 80's

SATIN RIBBONS
A strobe spins light on the girl's black velvet skirt and high heels. She stands in the middle of a ballroom, listens to Lorraine talk about the man who used to tie her up with satin ribbons. And she's amazed at the design the wrinkles form around Lorraine's eyes, like snowflakes. They remind her of her mother's eyes when she was dying on the sofa. Mother picked up a high heel, threw it, put a crack in the plaster. The girl stood across the room, looking at the lines on the walls, at her mother's wrinkles, and listening to her moan. Father would not wake up. Satin ribbons, satin ribbons and wrinkles. (Smoking in the Twilight Bar 1988)
from FABRIC REINS
one of a series of revisions of "Satin Ribbons"
And garments of vengeance while the sun stands still and the moon keeps a bird's eye-view of the upper room where men talk. My waters are bound up in their thick clouds even though I have lot my children and am desolate with this unprofitable talk. The only thing worse than being talked about is being born into trouble—he comes along and ties me on the fringe with a band of blue. Some girls die young, couch as couch can be, easier to pick up, harder to drop, like a low shoe or an eye for an eye: what every young man should know, neither written nor spoken—if at first you don't, you will always know how they cry and throw dust into the air. If he wants his dreams to come true, he must wake up and fill me with wind. Some people wake up and find themselves female. Others wake up and find themselves late. Or a pretty package just for Adam and his ribbon of blue—(Love Makes Thinking Dark 1995)
BARBARA HENNING, is a poet and fiction writer, author of two novels and seven books of poetry. Her latest book of poems, My Autobiography, was published in 2007 by United Artists. Cities & Memory is forthcoming from Chax Press. Two novels, You Me and the Insects (2005) and Black Lace (2001) were both published by Spuyten Duyvil . Other works include a series of photo-poem pamphlets; Detective Sentences (S.D., 2001), In Between (Spectacular Diseases, England); Me & My Dog(Poetry New York, 1999); Love Makes Thinking Dark (United Artists, 1995); The Passion of Signs (Leave Books, 1994);Smoking in the Twilight Bar (United Artists, l988). Poems and stories have been published in many magazines, includingPoetry International, Jacket Magazine, the Paris Review, Fiction International, The Brooklyn Rail, The World, Talisman, Lingo, Shiny, Not Enough Night, Hanging Loose and many others. During the early nineties, she was the editor of Long News in the Short Century, a journal of art and writing.
Barbara is the mother of two grown children, Linnée Snyder and Michah Sapertein. Barbara is Professor Emerita at Long Island University in Brooklyn. She was born in Detroit, relocated to New York City in the early eighties and now lives in Tucson, Arizona. She is presently teaching for Naropa University and the University of Arizona. Her blog address is http://barbarahenning.blogspot.com
Here are some pictures from Barbara...