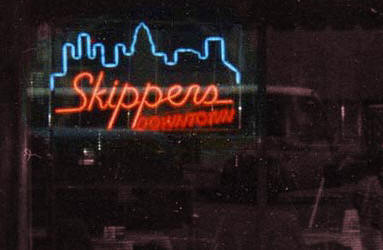 "Skipper's"
For those of you who were in the know, Skipper's downtown Detroit "Stray Dog Saloon" was where it was at in the 1980's. Skip is truly one of the Detroit's great cultural icons. Artists eagerly created murals on his walls, musicians performed, which tells you a lot about the proprietor.
Skipper's place exuded a wild, exciting atmosphere. It was a good place to hang. It was sorely missed when it closed in the early 90's. Do you miss it too? Well, no more...
On 01/14/10, Skipper says:
Pass it on. "Skipper's Hamtown" is opening for business Friday the 15th @ 6PM. Not a Grand Opening, that'll happen later. Rather a shake down cruise. Stop in and see Skipper's and meet and greet old friends and new. We're located at 9735 Conant Street Hamtramck 48212, between Edwin and Evaline. See 'ya there! = 248 895 6301 =

View Larger Map
...I'll see you there!