* Anything in RED is a query and subject to rewrite. If you have any information, please post it on the discussion board. It WILL be reviewed.
See also: Skipper's Stray Dog Saloon
01/15/10 - Skipper's Hamtown
"Shakedown Cruise" - More pictures



Skipper's Hamtown "Shakedown Cruise"
Finding the place was easy, parking no problem either. Walking inside, there was Skipper, grinning like a badger, welcoming me to his new place of business.
It's well past a decade and a half since Skipper's old "Stray Dog" on Bethune closed down, and when I looked around I was a little crestfallen to see only about ten people inside - but I gradually realized we're talking a night-crowd here, and as time went on the numbers grew until it was a multitude you had to shout over in order to be heard.
This night was important, because I wanted to see the 'raw space before Skipper put his magic touch on the place, transforming it to a world of comfortable atmosphere that only he can achieve.
When I left, people were still coming in and I was reluctant to go, being a family man and all that.

I so look forward to the Grand Opening, which ought to be a total blast. In the meantime, here are some pictures. It will be interesting to compare them to how the place will look after Skip has decked it out.
---
01/13/10
"Skipper's Hamtown"
Skipper is BACK!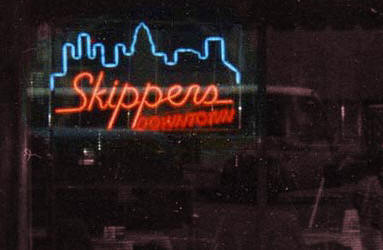 "Skipper's"
For those of you who were in the know, Skipper's downtown Detroit "Stray Dog Saloon" was where it was at in the 1980's. Skip is truly one of the Detroit's great cultural icons. Artists eagerly created murals on his walls, musicians performed, which tells you a lot about the proprietor.
Skipper's place exuded a wild, exciting atmosphere. It was a good place to hang. It was sorely missed when it closed in the early 90's. Do you miss it too? Well, no more...
On 01/14/10, Skipper says:
Pass it on. "Skipper's Hamtown" is opening for business Friday the 15th @ 6PM. Not a Grand Opening, that'll happen later. Rather a shake down cruise. Stop in and see Skipper's and meet and greet old friends and new. We're located at 9735 Conant Street Hamtramck 48212, between Edwin and Evaline. See 'ya there! = 248 895 6301 =

View Larger Map
...I'll see you there!