Karen Sepanski
The ultimate Corridor Fringer.
I've known Karen to be in the Corridor as far back as I can remember, and I've seen her en every conceivable location and establishment in the Corridor - and some besides. Karen is a full time glass artist and had her studio in the Corridor for many years. When I asked her what tribes she thought she might belong to, she shrugged and answered,
"I don't think I really belonged to a Corridor Tribe as such - unless you consider the Boat Yard a tribe...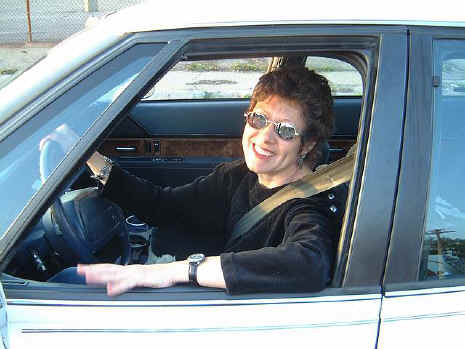 Karen visiting a friend on 4th Street
In a segment of a larger article in the Free Press:
July 9, 2001
BY SHERYL JAMES
and AMY KLEIN
FREE PRESS STAFF WRITERS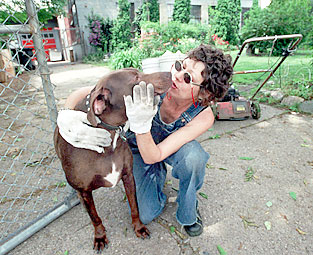 MANDI WRIGHT/DFP
KAREN SEPANSKI, Brush Park home owner for 21 years, with her dog Data: "Don't ask me why I'm still there. It's insane.... I've had all sorts of weird things happen to me."
A longtime resident
Karen Sepanski bought a coach house and commercial building in Brush Park 21 years ago. She planned then -- at age 27 -- to put some life into the neighborhood, prestigious 110 years ago.
But in the last 20 years, most of the mansions have been demolished; condos have gone up. And today Sepanski is 48 and living amid the remaining scarred mansions she calls "toothless hags."
---