Alvin's Tribe, January 28, 1968-82
( See also Alvin's Twilight Tribe, 1982 -1999 )
This could possibly be considered the Great Cass Tribe of this era, which I have arbitrarily set from it's opening by the great Alvin Stilman in 1970, through management by Barnie Surowitz until he stopped the Sunday brunch, commonly known as "Church" in 1982.
The brunch demise roughly coincides with George Korinek the Alvin's Partner who brought a liquor license - The Twilight Bar - and live music to Alvin's.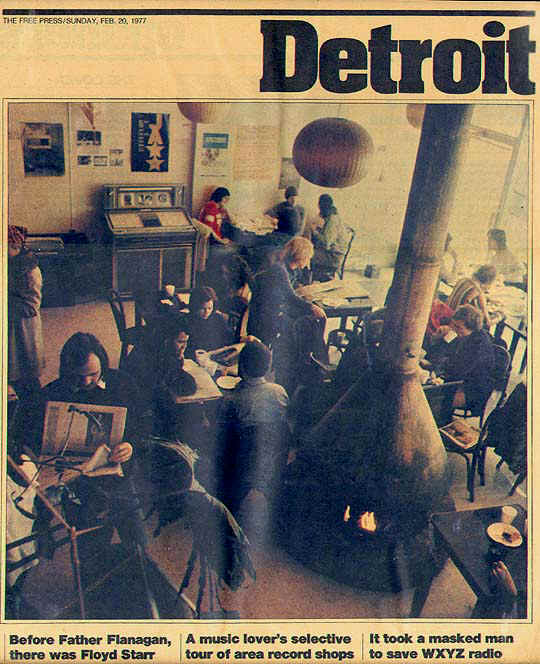 At this time there was a significant shift, due to individual migration and other factors.
"Alvin's Finer Delicatessen" located on Cass, North side of the WSU Campus, was a major meeting place for many overlapping tribes, and gave rise to much lively artistic interaction.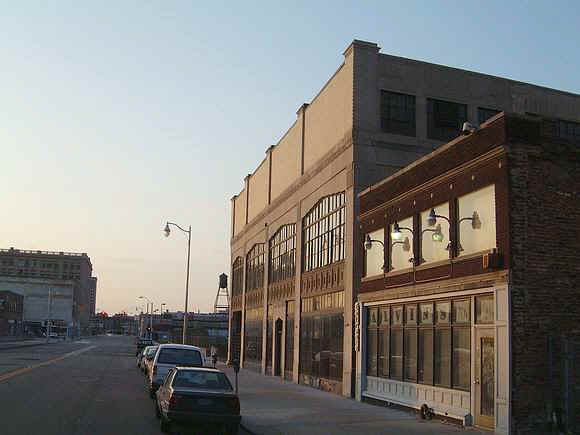 For those who had the honor and good fortune of working behind the counter of Alvins gives them a place amongst the gods. They saw it all. The watched as practically everyone associated with the Cass Corridor tribes at one time or another came for their tossed salad or cb ruben and coffee. Here are photos and a list of folks who worked behind the counter.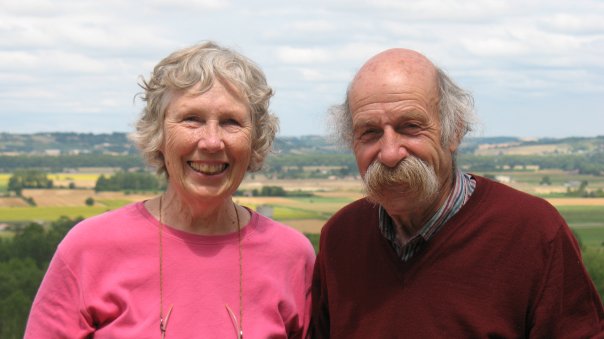 Rene & Alvin - France, 2009
The man who started it all - To some of us, the man on the right is as close to a god as one can get. Alvin Stilman's creation, coined in his own name, he laid down the foundation for what was to become the central gathering place for the artists, musicians, poets and armchair revolutionaries of the Cass Corridor.
"Alvin's" was an institution that long survived its creator's ownership. Within the Corridor, the importance of this establishment cannot be overestimated. Every band that played in the Corridor played at one time or another at Alvins, or its later back-of-building-manifestation, "The Twilight Bar"
Alvin Stilman skipped out of Detroit in the 70's and migrated to the West Coast. He now spends his time between the West Coast and France (Tough life, guess someone's got to do it.) Thanks for everything, Alvin!
Picture by John Bruno
Below is a list of people who are closely associated with this tribe:
Theresa Herron
David Pearl
Deb King
Bob Sestok
John Piet
Christine Piet
Betty Brownlee
Betsy Meyers Green
Kathryn Bracket Luchs
Michael Luchs
John Hegarty
Glen Mannisto
Dave Opadik
Jerry Hunt
Dennis Pruss
Allen Schaergis
Bette Huster
Sharon Newton
Tommy Ford
Tim McGuire
Laura McGuire
Frank Izola
Cynthia Laverty
George Rupert
Roy Castleberry
Colin Fraser
Bill antonow
Sally Chambers
Mary Ann Cameron
Suzy Raisig
Bob Benedict
Patty Benedict
Bill Waters
Diane Livingston
Cathy Hardy
Aris Koutroulis
Barbara Greene
John Thompson
Peg Filiatrault
David Weiss
Gregory Boerner
Suzy Wahl
Mary Preston
Gary Andrews
Dave Oullette
Marilyn Werbe
Aurthur Wenk
Sandy Wenk
Alden Smith
Robert Cobb
Keith Schiller
Karen Sepanski
Bob Hanamura
Joel Landy
Bill McLain
Gregory Grenon
Lynn 'Bones' Bonner
Bob Sherba
Doug Larkins
Lowell Boileau
MacArthur Binion
Jim Chatlain
Patricia Soderberg
John Bruno
Mary Beth Tupper
Pam Haliday
Doug Haliday
Brent Spoelstra
Bob Hanamura
Bob Lueck
Terry Perrin
Gene Barnes
Rob Spinazzola
Colleen Martin