09/09/2014
We have just learned from several reliable sources that Corridor artist Gilda Snowden has passed away.
She leaves behind a shocked and bereaved husband, family and community. Gilda was a foremost artist, not only of the Cass Corridor, but Detroit in general.
The unexpected passing of this vibrant and creative light will be deeply mourned.
More site information on Gilda can be found using the search engine at the top of the page.
More info will be posted as it arrives.
Rememberances for forum archive can be placed here.
Huffington Post Article on Gilda 09/09/14
Detroit News Article about Gilda 09/10/14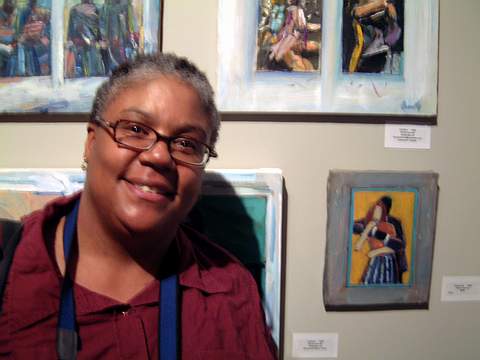 Gilda Snowden at Brabley Jones Exhibition College for Creative Studies, 2001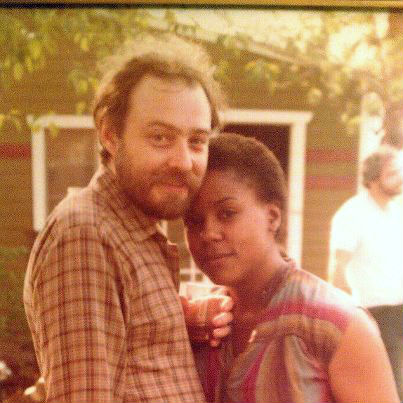 Boswell and Gilda, 1980's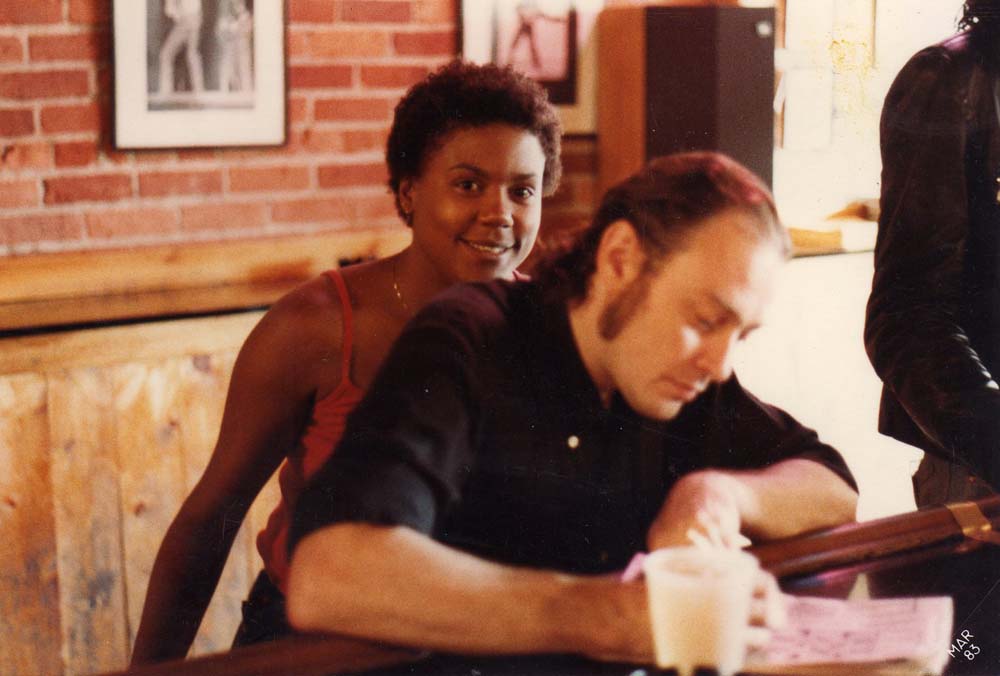 Gilda and Boswell at Alvins, March 1983
From Metro Times 09/09/2014:

Detroit artist Gilda Snowden has died due to a sudden heart failure, according to her family. She was 59.

A post on Snowden's Facebook account today broke the news:
Hello everyone, our family would like to inform you that as of this morning, Gilda passed away at Receiving Hospital due to sudden heart failure. We are just as shocked and confused as you are, and would greatly appreciate it if you gave us a little while to gather ourselves and make preparations. We are all immensely grateful for your condolences and well wishes, and we will make sure to keep you posted. Thank you again, we are blessed to have such a caring and loving community around us.

A graduate of Cass Tech High school, Snowden majored in fashion design. She started at Wayne State University in 1972 as a sociology major, but switched to art by the end of her four years. She earned her BFA in Advertising Design and Painting, MA in Painting, and MFA in Painting from Wayne State University by 1979, and started teaching for the university that same year. By 1985, she was a professor at the College for Creative Studies, where she was still employed at the time of her death.

Snowden worked primarily as an abstract painter, heavily inspired by artists of the Cass Corridor scene. Though her medium changed throughout the years, she loved the immediacy of paint — always working on the floor, and never with an easel. "I want them to be layered, gritty, grungy, beautiful," she told us regarding her work.

She says that she chose to paint because of its speed. "I want to see answers immediately," she told us.

Snowden was the subject of a retrospective at Artwork Oakland University Art Gallery in late 2013.