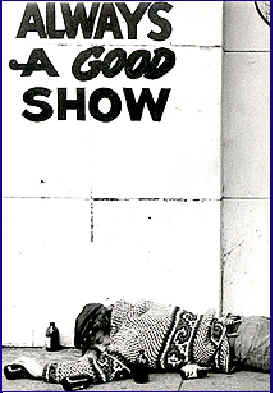 John Thompson on the sidewalk in front of the Sassy Cat Lounge, Selden and Woodward, on Thanksgiving morning, 1978. John provided an amusing site for parade-goers that year.
Photo by Carol Lynch
Let me begin by saying that any true history of the Cass Corridor cannot truly be complete unless there is a prominent section devoted to John Thompson. Across the years and across the "tribes," John Thompson was known to everyone and anyone who frequented Cass Avenue and the surrounding enclaves.
My memory of John is that of an adventurer who is at once both soulful and scrappy. His dark adventures are many, but more plentiful still are the countless occasions in which he extended a helping hand to someone in need. I know of no other person who loves his city and his community as much as John and who demonstrates this love in such a creative and consistent manner.
So strong is his association with Cass Avenue that John once referred to anyone who lived outside the Corridor as being a "suburbanite." It didn't matter if you lived just north of the Boulevard – according to John's Geography at the time, you were a resident of the suburbs and fair game for his good-natured scorn.
John can inspire laughter. John can inspire drunken excess. On a good night at a good bar in the Corridor, John could often inspire both simultaneously.
It was always fun to watch John create his magic.

My initial encounters with the Cass Corridor date back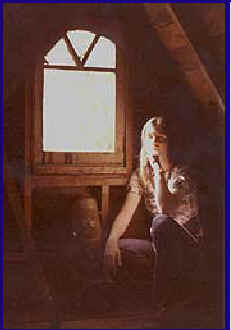 Carol Lynch, 1977

to the late '60s, beginning at Mixed Media, the one-stop shop for all our counter culture needs. There I discovered my first underground comix books, those bizarre little publications which would have a profound and lasting effect on my life. Years later I became a Corridor resident, experiencing a variety of living arrangements on Fourth Street, Prentis,
and finally on Selden near Cass during the late '70s. I went to Cobb's, Alvin's, the Song Shop, and ultimately became the gal who collected the cover charge at the door of the New Miami. This likely places me in the New Miami Tribe.
During my stint as the cover charge gal, I met an incredible array of people who spoke to me of their dreams, their loves, their heartaches, and more. I was, after all, a captive audience sitting there at the door all night. But I didn't
mind. Where else in life could you meet such an interesting cross section of Detroiters who would entrust you with the intimate details of their lives? The Miami patrons of that era were a truly diversified lot and "boss man" George Rupert was the great chieftain of the legendary watering hole and
tribal gathering ground.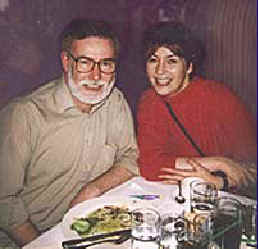 Jay and Carol Lynch dining at an embarrassingly overpriced Chicago restaurant, 1999.
"This place is certainly no Chris and Carl's," said Jay with remorse as he fondly remembered one of his favorite Detroit dining experiences.
Photo by Michael Gidwitz
I stitched my own hopes and dreams to the nightly fabric of stories woven at the New Miami. Life in the Corridor could be tough at times, but it also offered a strong sense of family for both aspiring and accomplished artists. Everybody was everybody else's favorite artist, poet, musician, writer or dancer. This was a good place to take a first (or fiftieth) step into the arts and it was here I began my journey on a path that continues today. There were many talented people who frequented the Corridor during the same era, but one of the best and most inspiring artists I ever met was the amazingly talented Roy Castleberry. Castleberry acknowledged the nurturing and creative environment of the Corridor, but he cautioned that it was wise to remember the world which existed beyond Cass Avenue. That outside world, he explained, often held our lives and accomplishments to a much harsher standard of measurement . It was important to remember, he said, that one's peers will rarely be as generous and supportive as they are in the Corridor. As I traveled through time and across the miles, I soon discovered that his advice was – ouch! – so very, very true. Ultimately, I left the Corridor and explored the world beyond, living on both coasts and a few places in between. And although it's been a good long while since I've enjoyed Corridor Camaraderie, the area will always hold a prominent place in my heart. One final note: a special thanks to Robin Sommers for selling me that first issue of Bijou Funnies at Mixed Media so many years ago. Contained on the pages of that little comic book was the artwork of the man whom I would ultimately wed. (The next time someone tells you they'll "see you in the funny pages", please consider that they might actually be serious!) Best wishes to everyone!
Carol Lynch lynchworks@earthlink.net
---