---
Cass Corridor Culture: In and Around Wayne State, 1960s - 1980s
Community Room
3rd floor, David Adamany Undergraduate Library
5155 Gullen Mall
5 p.m. to 9 p.m.
As part of midtown Detroit's Noel Night on December 4, the David Adamany Undergraduate Library will host an opening reception for "Cass Corridor Culture: In and Around Wayne State, 1960s - 1980s," a permanent exhibit presented by the Wayne State University Library System and the WSU Art Collection, with generous support from the Community Foundation for Southeast Michigan.

The reception will be hosted from 5 p.m. to 9 p.m. in the Community Room on the third floor of the UGL, adjacent to the exhibit, during Noel Night festivities. Refreshments will be served. The exhibit highlights the work of artists, poets and musicians, many of whom lived and worked in "the Corridor" during those years, attending or teaching at the university, entertaining in the area's music venues, protesting politically or socially with voice, pen or paintbrush, and developing a strong and vibrant sense of community. The exhibit provides a taste of the creative culture that thrived around the university at that time.

During the reception there will be screenings of the films "MC5: Kick Out the Jams," a film by Leni Sinclair and Cary Loren; and "Images from Detroit's Cass Corridor," by Kathryn Brackett Luchs and Shaun Bangert.

For more information about this event, call (313) 577-8852
---

Plum Street and its sad demise...
---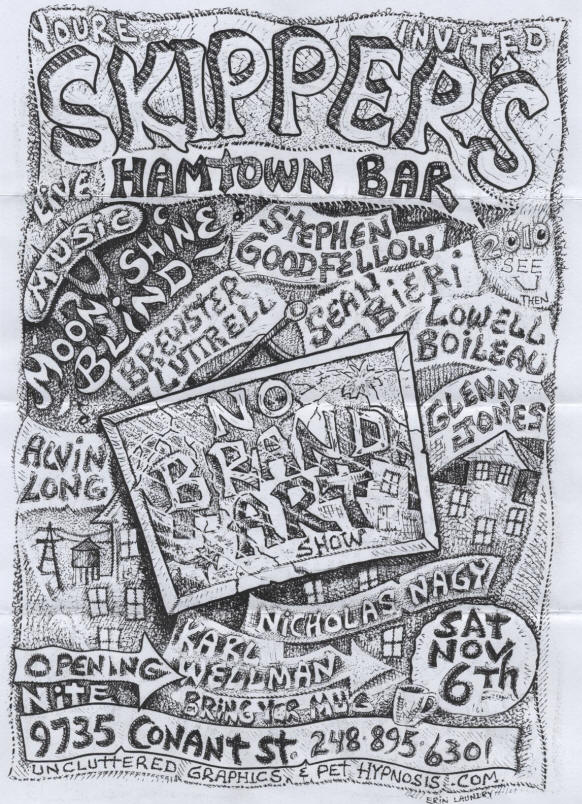 Skipper writes:
Folks, here it is - you are invited to the 'can't miss', art opening of the year - NO BRAND ART, featuring long time Miami, Chicago, Detroit and Cass Corridor art luminaries: Nicholas Nagy, Lowell Boileau (DetroitYes.com), Stephen Goodfellow (Goodfelloweb.com), Glenn Jones, Alvin Long, Brewster Luttrell, and our very own Hamtramckins, (is that Hamtramckites, Hamtramckers?) Sean Bieri and Karl Wellman. Moonshine Blind Band will be rockin' the night away and our (in)famous juke box belts out Miles and Billy between sets. John Lopez, of Union Street, Majestic Cafe, Atlas Global Bistro and Twingo's holds court at our bar with Special Guest (soon to be regular bartender??), art impressario, Billy Hunter, Co-Owner of Detroit's Mosaic Gallery. This will surely be a gathering of 'The Tribes'. Bring ma and pa, and drag the kids along. See old friends and meet new ones over a cider, coffee, coctail or beer. Can't wait to see you here. Check out WWW.SKIPPERSHAMTOWN.COM for mapquest and details.
---
Corridortribe: Catalyst for reunion of father & son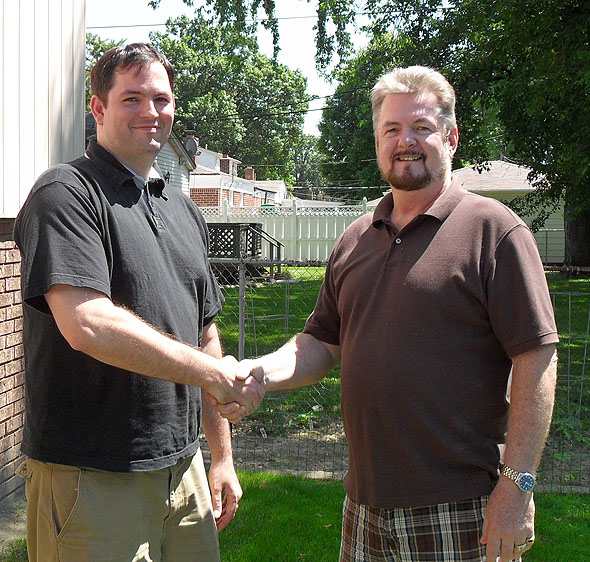 Larry Dahlka aka Larry Doll says, I have a son who found me through the "tribes" site and here is a picture of us together. His name is Myk Gerard and I'm Larry Dahlka (I grew up with Marvin Rieli) and I used to work at open city, hung out at all the corridor bars and had a book of my poetry I used to sell everywhere I could around there.
---
Detroit Poet and writer Ron Allen passes away
Poet, writer, Ron's contribution to Detroit's literary heritage is in-depth. He heralded the human condition with passion and content
His online presence:
Ron's Website:

http://weightlesslanguage.blogspot.com
Zeitgeist:
http://zeitgeistdetroit.org/newsite/thrhist.html
Fried Poetry:
http://www.lapovertydept.org/fried-poetry/index.php
Thom Jurek writes in Facebook,
For Detroiters, city and Metro area, current and former, I'm thinking about Ron Allen this morning, as I have been since I heard the news about his health. I looked for videos of him on YouTube, but found this one-he appears at 8:17 in the video, doing in Los Angeles what he did in Detroit (it's amazing I can't find any real video of him doing one of his many things here). This is his FRIED POETRY series from skid row there, sponsored by the LA PD!--only Ron could make that happen. Once more he's giving voice to poets and writers from across the spectrum, and trying to l get voices INTO the cultural mix that have been ignored, heard. Again, he appears, looking wonderful.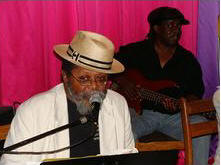 Ron Allen, 2009
According to one source, there are plans for a celebration of Ron Allan's life on Sun. Aug.22 at the Pyramid stage in Hart Plaza, 5 - 7pm

Please place remembrances of Ron Allen here:
---
Bill McLain passes away
Terri Hern says,
Bill McLain passed away on Saturday, July 24, 2010. He had suffered a stroke a couple of months ago. As a long time corridor resident and artist, he had many friends in the community. What a very sweet and talented person he was!
Have something to say about Bill? Place your remembrances here
---
Woody Miller, long-time Mid-town publisher passes away
I'm sorry to hear of Woody's passing. Woody was an dedicated patron of the arts, supporting young and established artists through his tireless reporting. He was also a friend who I will sorely miss. Thanks for everything, Woody.
SG

Woody's memorial will be at Belle Isle Beach,
August 14th, 9:30am - 11:00am
For more information, go to "Woody Miller Memorial" on Facebook
Have something to say about Woody? Place your remembrances here
---
Dayton Spence on life-support?
07/26/10 - MaryElaine Chambers wrote:
I just got a call from a friend who is a relative of Dayton Spence's. She said that Spence is on life support. He had an aneurism (sp) on his heart. She was requesting prayers. I have no idea how he is but i am certain that all his friends would love to know and send their love or prayers for him or just good vibes his way. I have not had any way to confirm this but i have no reason to suspect that this woman is lying - she has nothing to gain from it. If i hear anything else on this I will let you know. Remind people to connect to those people in their lives who they love.
Thank you for keeping the tribes sight going. its so important.
Blessings,
MaryElaine & David Chambers
I anyone has any further information on Dayton Spence, please post it here. I will update to this main page as information is acquired.
---
Main Page pictures, 2010

Introduction by Cass Corridor poet Ken Mikolowski
University Art Collection - Wayne State University

---
Mick Vranich 1946-2010
Memorial Gathering was at
Trumbull Theater
4208 Trumbull Avenue, Detroit, Michigan
Sunday 4 April 2010 at 5 PM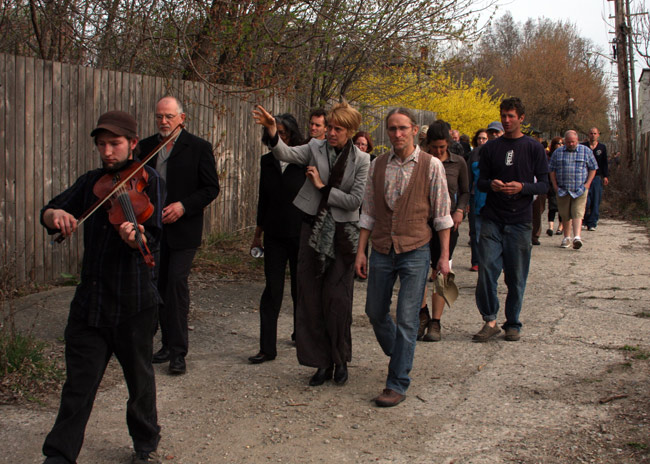 Mick Vranich's memorial heads over to Sherri Hendriks' place
Click for more pictures.
All pictures are compliments of Lowell Boileau
---
Mick Vranich 1946-2010
Memorial Gathering was at
Trumbull Theater
4208 Trumbull Avenue, Detroit, Michigan
Sunday 4 April 2010 at 5 PM
---
Mich Vranich
03/29/10 - "...

I write with great sadness... Mick died peacefully at 9:00 tonight. - Christine

..."
03/30/10 - Dennis Pruss:
"...Heard from Robin that Mick Vranich passed away this evening at about 9:00, following an operation his lungs began to bleed and nothing could be done-he will be missed..."
---
James Knoll says:
Heather Tupy passed away in Chicago where she had been living. Best known around the corridor as a bartender at Third Street Saloon. She was a friend and sister to Michael Briggs and Keith Kelly. She worked for many years at Ford and was living in Hamtramck and working for Sierra Medical up until about a year ago when she relocated to Chicago. She was a warm person who loved animals and lived her life like she wanted. I will always miss her wry sense of humor.

She died unexpectedly on Thursday Feb.11,2010 at 57 years of age, cause of death believed to be cardiac arrest. There will be a memorial in Chicago details as yet unknown.
There also are plans in the works to celebrate her life in Detroit at Suzy's Bar 2942 Eveline Hamtramck 872-9016. I'll try to post details asap or call Suzy's early in March.

---
Mick Vranich convalescing
after serious construction accident
Dennis Pruss says:
If you would like to donate to Mick Vranich's cause
There will be a benefit auction at the Center Galleries On CCS's campus March 6th 7-10pm
Matt Hanna will be accepting artwork at The Detroit Artist Market Tuesday Feb. 23 until March 4th.
All work will be auctioned with a base price of $25.00 - Its an opportunity ...to give to a great man and cause.



Mick Vranich - Alvins, 1982
---

---
"Slim's Bike"

Detroit outsider artist James Thompson and his eccentric art bike.
Made by Ben Hernandez and Chris Turner.
---
2010 MotorCity Revue
Includes a plethora of Cass Corridor artists...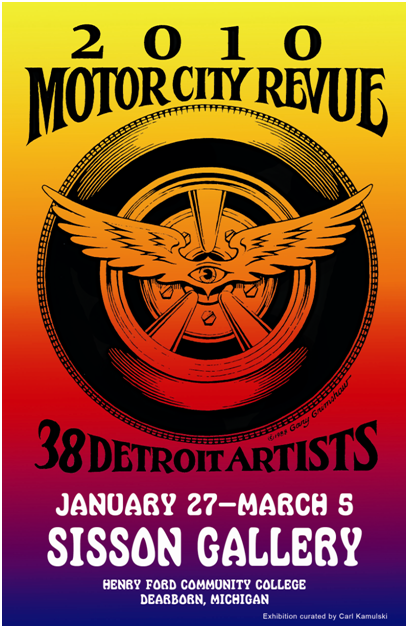 Curated by Carl Kamulski, former owner and curator of the long defunct
Michigan Gallery, and Steve Glazer, Professor of Fine Art and Gallery
Director at Henry Ford Community College
Poster by Gary Grimshaw
---
01/19/10 - Paying attention to today's news, Nick Medvecky noted the passing of Stella Paris, a longtime fixture of Greektown. I believe Stella was 94 when she died in an eastside nursing home.
---
First Alvin's had new life breathed into it,
and now...Skipper's is BACK!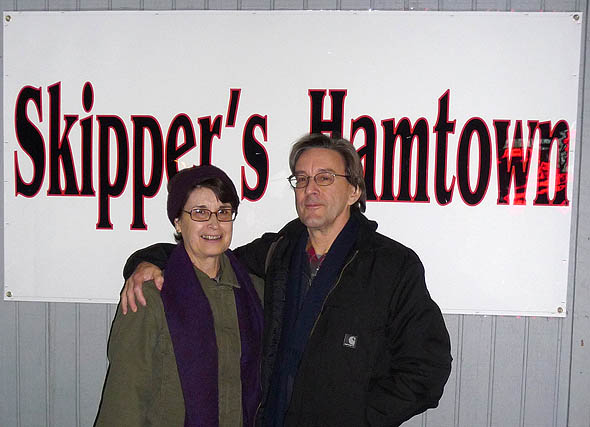 Beth & Robert Hyde outside Skipper's
---
Barbara Greene in hospital - Letters from Mike Twamley
Update! Barbara's hospital phone number, compliments Becky Romaine: 1416 5306000 punch: 1 Bed: 2077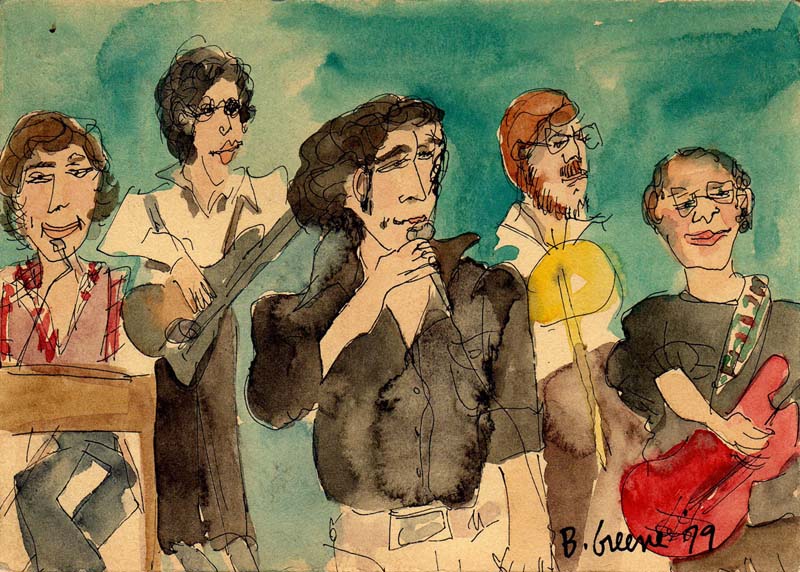 "The Lords" by Barbara Greene, 1979

---
Cass Corridor Artists Circa 1974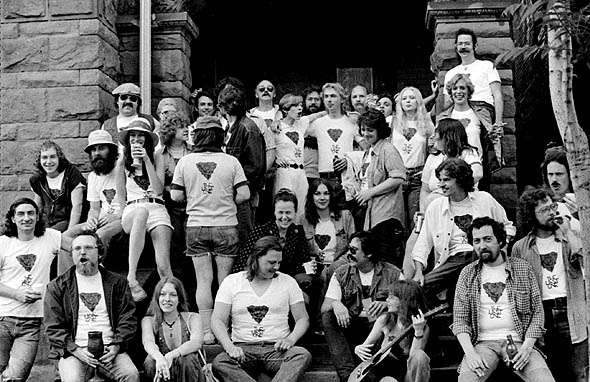 Click image for larger version "Last One" T-Shirts
Image compliments of Lenny Schafer